The 112th Precinct just tweeted out a picture explaining how deception burglaries work, and what you can do to avoid getting duped. Take a minute or two to read over it–may come in handy one day!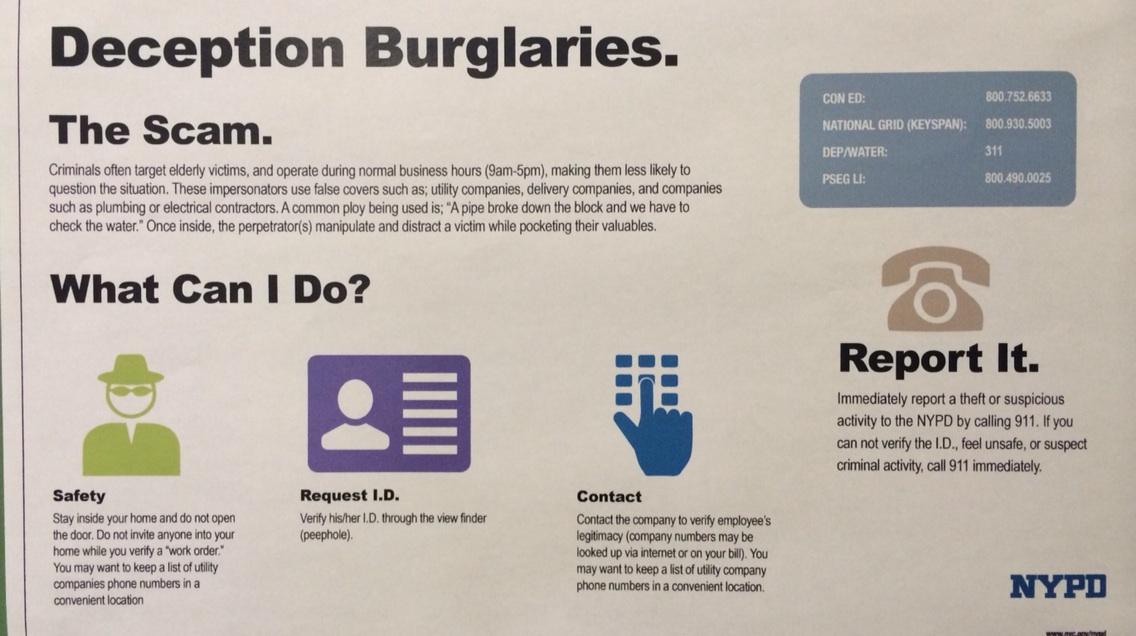 Here's a summary of the poster's contents.
THE SCAM
Often target elderly victims
Operate during normal business hours (9 a.m. — 5 p.m.)
Use false covers (e.g. utility companies, delivery companies, plumbing/electrical companies)
Once victim allows access, perpetrator manipulates and distracts victim to acquire valuable objects or information
WHAT CAN I DO?
Safety
Stay inside house and do not open door
Do not let anyone inside house while verifying 'work order'
Keep list of phone numbers of utility companies in convenient location
Request ID
Verify ID through view finder (peephole)
Contact
Contact company where he/she claims to be employed by to verify legitimacy
Report It
Immediately report theft or suspicious behavior to the NYPD by calling 911. Even if no theft occurs, if you cannot verify ID, feel unsafe, or suspect criminal activity, call 911 immediately.